Do you know what is being said about you online? Your customers are probably using Twitter, Facebook, Yelp and other sites to talk about your business.



Aspiring Solutions has built the tools you need to monitor and build your online reputation. A well managed online reputation can help improve your search rankings and even improve your conversion rates when people read what your customers are saying about you.

Here is how our reputation management feature works:
Reputation Monitoring Service - we work with third party data sources to monitor social media and report all of your social mentions. Links to your social mentions will show up on your dashboard.
Proactive Reputation Building - the best way to suppress potential negative comments is to encourage your customers to write positive reviews. Aspiring Solutions can use email marketing to encourage reviews and can even help post those reviews on your website. Aspiring Solutions can even manage your social media presence.
Reacting to Negative - if unflattering information does surface, Aspiring Solutions can help promote the positive content about your business to push down the negative information.
The best defense is a good offense so don't wait until it is too late to start monitoring and building your online reputation.

Track mentions over time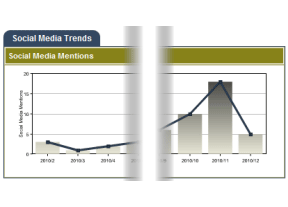 Watch your social mentions grow as you participate in social media.
Average sentiment


See if your social mentions are trending negative or positive.
Source of social mentions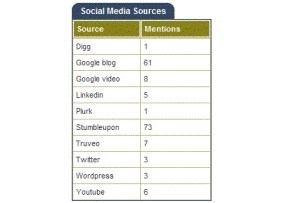 Get a chart that shows where people are talking about your company.
Social mentions detail


See the details of the mention as well as the sentiment.