As a Google Adwords Certified Partner, Aspiring Solutions Web Design has built and managed hundreds of successful pay per click programs for businesses of all types and sizes.

Pay-Per-Click Advertising places an ad for your business directly in front of the people that are actively searching online for your products and services. PPC Advertising is far more complex than it may seem. The "do it yourselfers" and inexperienced PPC firms are destined to make many costly mistakes and see very little or no return on investment. Experience matters and our PPC Analysts have it. We've managed campaigns on the big search engines almost since the advent of Google PPC. We stay current with PPC trends and find new PPC advertising platforms that tend to have lower bid requirements than Google and the others that have been around for a while. One of the more recent trends is social media advertising, such as Facebook and Twitter. We've got that covered too!
Our PPC Campaign set up works like this:
We review your website and develop a list of keywords that best describe your products/services.
We write highly targeted ads designed to entice your potential customers to click on your ad over all others.
When a customer searches for a keyword included in your campaign, the ad for your business appears on the search results page of Google, Bing and other major search engines.
When a customer clicks on your ad, we take them to the page on your site that has the information that best matches their search.
Unlike traditional advertising and marketing formats, PPC campaign return on investment is 100% measurable. Our reporting services, available to you 24/7, will tell you what happens when a visitor clicks on your ad and lands on your Website. You'll know which clicks convert to a sale, phone call, sign-up or any goal that you wish to measure. We can also email regular updates and at month-end, you'll receive a comprehensive report.
Because the content on your website can make all the difference in persuading a customer to buy from you instead of your competitor, Aspiring Solutions offers a Landing Page design and development service. A landing page is extremely targeted to a set of keywords and contains a special offer or enticement that inspires the customer to place an order. We have seen ROI improve dramatically with a well-executed landing page. If you're getting traffic to your site but people aren't buying, a professionally designed landing page may be all you need.

Once we've got your campaign up and running, when others tend to put their campaigns on "auto-pilot," we're just getting started. We continually search for new keywords, write new ads and adjust bids. And, the Aspiring Solutions system receives a daily data feed from the major paid search providers allowing us to quickly analyze the data against the goals we have established for the campaign.

Learn how our up-front strategy and ongoing management can get you started or help get your current pay per click campaign on the right track.
Track goals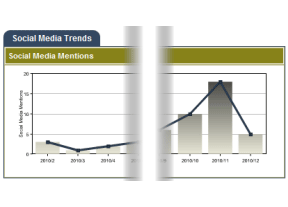 Set a conversion goal and track your month to month progress.
Monthly projections
Calculate monthly projections for spend and conversions. Include phone calls and form conversions.
Top keywords by spend
Quickly know where you are spending your paid search budget.
Clicks by search engine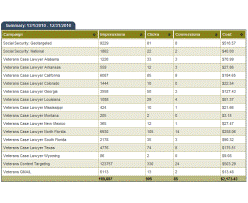 Pull date from Google and Adcenter and filter it on demand.